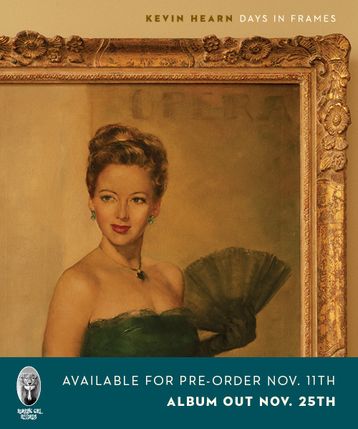 (OCTOBER 28, 2014 - Toronto, ON) Kevin Hearn has just announced his new LP Days In Frames will be released on November 25 via boutique label Roaring Girl Records/Fontana North.  Those who take advantage of the iTunes pre-order on November 11, 2014 will receive an instant grat track of the infectious lead single "Gallerina" which premieres at Exclaim! today here.  See below for full track listing.
Hearn's seventh album is sonically stunning, piano-driven, hauntingly melodic pop resplendent in space-age synths and ukuleles, and as grounded in the everyday as it is fascinated with the otherworldly.  That's true lyrically as well; Hearn describes the songs as being about "love, loss, life, death and renewal, with brief glimpses of the supernatural and the occasional darkly humorous observation." 
Hearn is best known as a multi-instrumentalist from Barenaked Ladies, the multi-platinum selling band he's played with for almost two decades now. One of the most respected Toronto musicians of the past 25 years, Hearn's solo albums always attract equally brilliant collaborators: here, they include singer/songwriters Ron Sexsmith and Dan Hill, drummer Rob Kloet (the Nits), Joan as Policewoman, and producer Gavin Brown (Metric, Tragically Hip, Sarah Harmer), not to mention his 22-year-relationship with the rhythm section of Chris Gartner and Great Bob Scott. The LP is also produced by Brown and mixed by Tom Elmhirst (Amy Winehouse, Adele). The ever-modest Hearn rarely asks for favours; people insist on granting them. Violinist Hugh Marsh (Bruce Cockburn, Mary Margaret O'Hara) happened to be visiting the studio where Hearn was recording; intrigued, he ended up spending 10 hours in the studio, playing on almost every track on Days In Frames.
One of Hearn's closest relationships, both musical and personal, was with the late, great Lou Reed, for whom Hearn acted as keyboardist and musical director from 2007 up until his passing in 2013. Hearn assembled his friends from
Reed's band — bassist Fernando Saunders, drummer Tony "Thunder" Smith and guitarists Mike Rathke and Aram Bajakian — to play on this album.  Several of those musicians play on a song that Hearn wrote about spending time with Reed in the hospital,  "Floating." "Floating, but my heart's still beating," sings Hearn, in an upbeat pop waltz, one defying expectations that a song about death has to be sad and morbid. Reed knew a thing or two about cutting through dark situations with gallows humour; Hearn sings: "Things get funny when your eyesight goes / Mistaking your fingers for your toes," a lyric Reed actually contributed to the song.
The songs on Days In Frames were written in Hearn's Toronto home as well as Muskoka, ON, Paris, Tofino, B.C., and Cape Dorset on Baffin Island in Canada's Arctic; he visited the latter in June 2014, a trip he describes as a "life-changing experience." A longtime patron of Inuit art, Hearn was invited by the Dorset Fine Arts studio, home to some of his favourite artists, such as Shuvinai Ashoona, who painted a guitar for him; Hearn dedicates "Midnight Sun" to her. His relationship with art also informs Days In Frames' first single, "Gallerina," sung from the perspective of a painting infatuated with a gallery worker—it's not a tale of unrequited love, exactly, but it does illustrate Hearn's unique outlook.
Though Hearn has contributed songs to Barenaked Ladies' albums in the past 10 years, the songs on his solo records are much more personal, both in subject matter and musical exploration. "It's fun for me to make music that doesn't have to fit a certain criteria, whether it be regarding the style or sound, or who is playing it," he says. "I'm inspired by the works of artists such as David Lynch and Sun Ra, whereas going in that direction with Barenaked Ladies might not make sense. It all finds a home in the proper place. When I make my own records, I can follow my heart and curiosity." More tour dates will be announced when available.
Days In Frames Track listing:
01. Gallerina
02. Cathedral
03. Floating
04. Melody/Memory
05. Up Above
06. You Wrecked Me
07. Best Day Yet
08. Midnight Sun
09. Sugar Water
10. Crossing Over